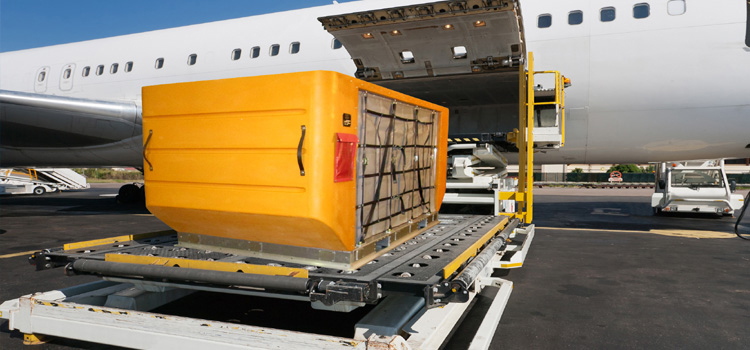 Plastics Company: Industries Served
Granger Plastics Company provides a number of leading rotationally molded plastic solutions to an ever expanding number of industries. Granger has played an integral part in a number of these roto-molded projects, as a growing number of these projects have been designed and engineered by Granger Plastics. With over 25 years of industry leading rotational molding experience, Granger Plastics prides itself on providing "Solutions Beyond Expectations".
Granger Plastics Company as well with many of its customers, has garnered a large amount of international media and press attention for a growing number of its industry accolades, including a tremendous amount of press for its highly lauded safety product, America's leading single family Tornado Shelter, the Granger ISS. The Granger ISS Storm Shelter has been featured on the cover of leading publications such as USA Today, RotoWorld Magazine, even featured on reality television such as A&E's "Shipping Wars". Most importantly, the Granger ISS is the near absolute tornado protection and peace of mind for thousands of families across the United States, even some outside of the US!
The Granger Plastics Company is an internationally recognized leader in the field of Rotational Molding of Plastics. Rotational Molding, or Rotomolding, is a plastics molding process that has the capabilities to produce large, complex, durable hollow products, that have some of the most durable physical properties of any man made materials on the planet. Granger Plastics Company produces a wide variety of products ranging from as small as 8 ounces up to products that are in excess of 1,200 pounds or more. The roto-molding process is a fairly young plastics manufacturing process in comparison to other commonly utilized processes including injection or blow molding. Because of the lack of expsosure of the plastics rotational molding process, there is still exponential growth in new rotomolded product development.
The Granger Plastics Company has received international accolades for a number of its plastic designs and plastic products, such as America's #1 selling Tornado Shelter, the Granger ISS. Granger Plastics Company prides itself on high quality production, molding some of the most complex and innovative designs in the Rotational Molding industry!
Read more below to see a small sampling of the different industries that Granger Plastics provides industry leading rotationally molded solutions!
Aerospace & Defense Industry
ULD Containers & Custom Aerospace Solutions
Since the inception of Granger Plastics Company in September of 1994, the rotational molding leader has been an integral supplier of high quality custom manufactured ULD Containers. With over 2 decades of experience providing high-quality ULD containers, Granger Industries opted to start another division for its defense and aerospace solutions, Granger Aerospace.
| | | |
| --- | --- | --- |
| | | |
Using its experience of high-quality aerospace manufacturing, Granger Aerospace manufactures a line of proprietary Air Cargo Containers, also known as ULD Containers. The hybrid aluminum and PE constructed containers allow air cargo users the lowest total cost of ownership amongst comparable containers by providing drastically reduced maintenance costs and frequency of repairs. Granger's direct conversion over "typical industry standard" containers, which historically have been aluminum or fiberglass. The conversion of the metals or FRP materials offer substantial savings of maintenance and fuel burn due to Granger's ULD Containers requiring less maintenance and offering lighter tare weights than many standard air cargo containers. These features allow the containers to stay in service longer, make more flights, carrying more cargo, thus returning on your intial investment faster!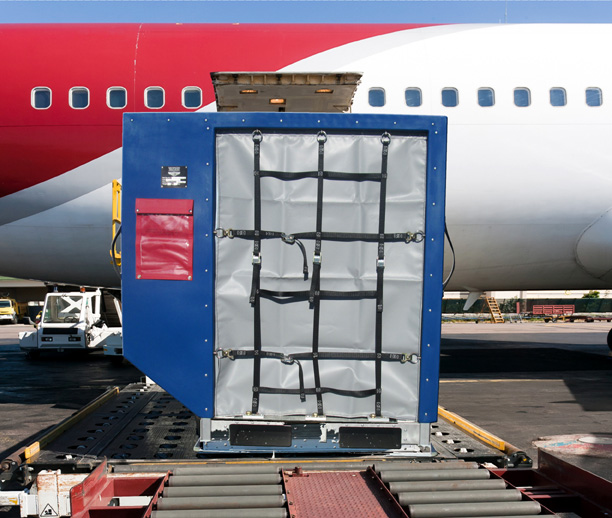 LD 2 ULD Container being loaded onto Jet
Learn more about Granger Aerospace at https://www.granger.aero
Material Handling Industry
Laundry Carts, Bushel Carts and material handling solutions
Granger's 25 years of rotomoulding manufacturing excellence has allowed for the design and production of a number of material handling solutions. Granger Plastics Company has been integral in the development of a number of material handling solutions ranging from carts and containers to pallets and bulk storage. Granger manufactures a variety of material handling solutions ranging from bulk storage containers, laundry carts, various tanks such as intermediate bulk containers, plastic pallets and so much more.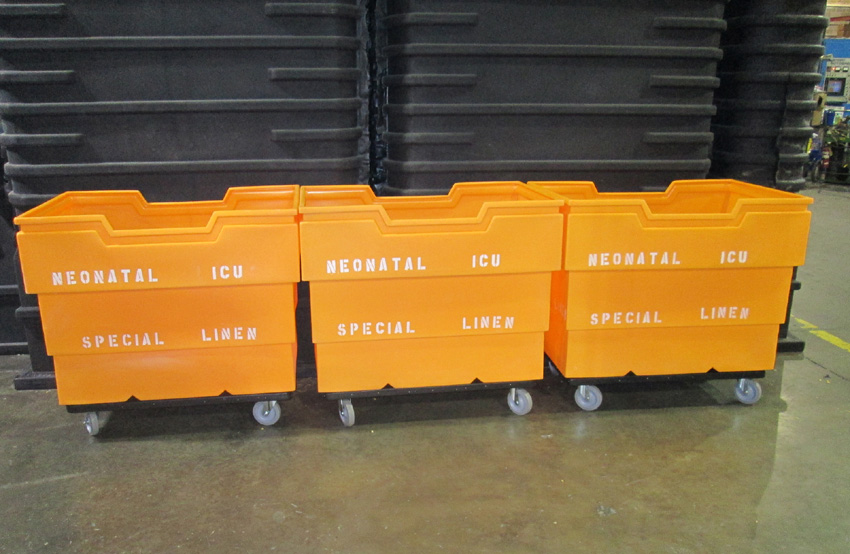 Custom Material Handling Carts for a Hospital
Granger produces a number of material handling carts, commonly known as Laundry Carts or Bushel Carts. These carts are commonly used in facilities such as daycares, schools, hospitals, hotels, resorts, gyms, doctors offices and so much more. The durable poly construction of these carts is easily cleaned and maintained. Even special additives such as anti-fungal and anti-bacterial additives can be added to the materials to protect against fungi and bacteria. With a diverse range of caster options, sizes and capabilities, the Granger Plastics Laundry Carts offer a material handling solution for your operations.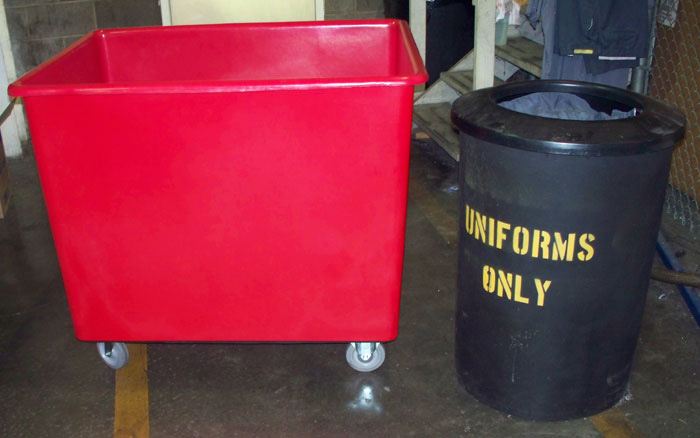 Bushel Carts used by a commercial uniform service for collecitons
In addition to a number of laundry cart offerings, Granger Plastics also molds a number of custom material handling solutions for a growing number of industry leaders in the form of plastic pallets. Granger's plastic pallet designs have solved internal and external material handling issues for some of the biggest names of industry and business. While offering typical 48" x 40" plastic pallets, Granger also rotationally molds plastic pallets as large as 90" x 90". Durable, re-usable rotationally molded pallets serve a plethora of purposes ranging from internal manufacturing use, re-usable shipping uses and in bulk returnable freight systems. Plastic pallets offer benefits as they are durable and re-usable. Many wooden pallets will break, splinter or even fracture, sometimes after the first use.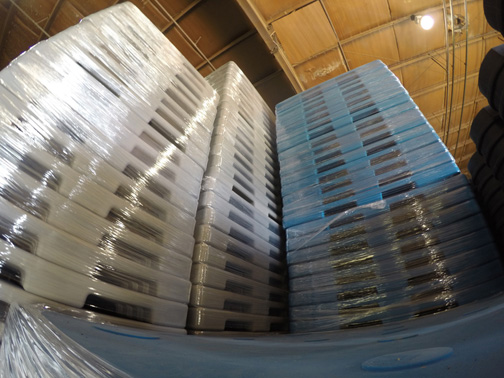 Durable, re-usable Plastic Pallets ready for shipment
Learn more about Granger's Material Handling Products and Carts at the following:



Chemical & Agricultural Industry

A large portion of the plastics industy is made up tanks. Tanks are used for a variety of applications in numerous industries ranging from Agricultural, Manufacturing, Food Processing, Chemical Manufacturing and so much more. Rotationally Molded Tanks are manufactured to a variety of sizes and configurations for a plethora of uses. Holding everything from Iron Oxides to Water and virtually everything in between, rotationally molded plastic tanks are common products of the rotomolding industry.

Many custom projects or applications will require the production of a custom tank. Custom rotomolded tanks can be designed and molded to meet certain specifications or standards of performance. Custom tanks range in wall thicknesses, ranging from 3/16 of an inch to robust, heavy duty tanks with wall thicknesses exceeding 1 or 2 inches.

Custom Rotomolded Plastic Tanks

Whether for water storage or industrial use, rotomolded tanks offer a wide variety of uses in a plethora of various industries. Rotomolded tanks are preferred in many applications over blow molded tanks due to the durable, rugged rotational moulding construction. Rotomolded Tanks are far more durable, offering longer service lives in comparison to traditionally less durable blow molded tank variants. Rotomolded Plastic Tanks are becoming more common than even fabricated metal tanks, such as Stainless Steel or Carbon Steel vessels due to increasing costs and long term durability.

Rotationally Molded Intermediate Bulk Containers




Learn more about Granger's Tanks and Custom Tanks at either of the following:

Water Quality & Treatment Industry

Water continues to be one of the most valuable natural resources on the planet. While technological advances have taken society and cultures to levels of functioning that were previously only dreamed of, access to clean water is still a challenge for many in various parts of the globe. While access to drinking water limits some, others are faced with challenges of human waste disposal, as they do not have plumbing, running water or other means for sanitary waste water treatment or disposal.

Plastic Water Treatment Tank

Sometimes its using water on a job or project site, that lacks infrastructure such as plumbing or running water. In those instances, just having a tank to dispense usable water from is necessary in such conditions. Granger Plastics Company produces a number of tanks and intermediate bulk containers that regularly are used for transportation of water or other liquids. Granger's Intermediate Bulk Container offerings range from 275 gallons, to 330 gallons and up to a 400 Gallon IBC. Custom size tanks can be produced to suit your project or company's needs.

Plastic Intermediate Bulk Container Tank

Learn more about Granger's Tanks and Custom Tanks at either of the following:




Custom Rotomolding

The content above is an extremely brief sampling of industries that are served by Granger Plastics and the rotomoulding process. Roto-molding allows for plastic products to be molded in a stress-free manner, which make the parts much more durable than those produced via other plastics molding processes such as injection molding or blow molding. Custom Rotational Molding allows for extremely durable polymer based products to be manufactured for a growing number of applications. Learn more about rotational molding by clicking here!

Custom Plastic Tank being pulled from mold

Learn more about Custom Rotational Molding of Plastics at any of of the links below: